The Plugin imposes plane limits to ensure analysis can complete in an acceptable amount of time. We have recently released an improvement which allows us to conduct plane counts on simplified versions of Revit window families.  
For example, in the image below, there are four different windows with varying complexity.
A window which has a solid panel at the bottom, and mullions splitting the glass at the top

A fixed window with a simple frame

A double hung window with frame and interior trim

A curtain wall with gridlines but no mullions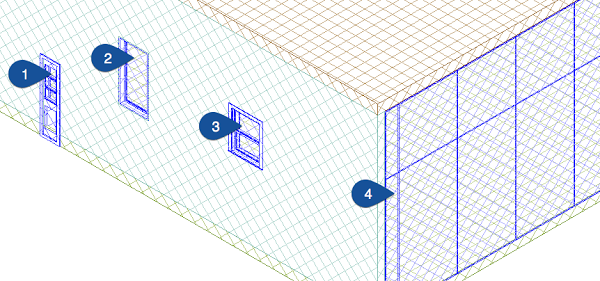 The chart below shows the plane count for each window and how we have reduced the plane count. This improvement means more models should run in for both energy and daylighting analysis without having to make adjustments to the Revit model. 
| | | | | |
| --- | --- | --- | --- | --- |
|  Window  | Type | Family Count in Revit | Previous Plane Count | Current Plane Count |
| 1 | Fixed w/ divided lites | 1 | 68 | 6 |
| 2 | Fixed | 1 | 36 | 4 |
| 3 | Double Hung | 1 | 78 | 9 |
| 4 | Curtain Wall - panel | 18 | 108 | 1 |
|   | All | 21 | 290 | 20 |